Written by: Cody Warhurst
HBO's Game of Thrones is gracing the gaming world with a brand new pinball produced by Chicago's veryown Stern Pinball. Earlier this month they released information and the first images of the three differentsetups and we're excited to delve into the systems and how they stack up against each other.The idea behind the game is to pledge allegiance to one of Westeros's seven families at the very beginning using the "action" button and then vie for control of the Iron Throne…or at least slay the otherfamilies in true Game of Thrones fashion. The game includes many noteworthy pinball features and several exceptionally rare functions for pinballs. Players can utilize an in-game economy where they acquire gold during gameplay that can be used to purchase items for later use in the game. This pinball also has an 8-bit "video game mode" throwback to retro gaming where players wield a sword using the top-and-center action button. There are several different kickback features including a dragon kickback, White Walker kickback, and a "battering ram" type kickback that lets you score major points by breaking down a castle wall. With boatloads of drop targets, standups, pins, bumpers, and ramps, this is going to be a great play.The pinball itself comes in three iterations: Pro Edition, Premium Edition, and Limited Edition which all differ by about $1000 from each other. The Pro Edition is the standard version of the game and is missingquite a bit of functionality of the Premium and LE.  Much of the missing features are either art-related, with Premium and LE having special side armor, different art, hand-painted backboxes, etc, or castle miniature-playfield-related.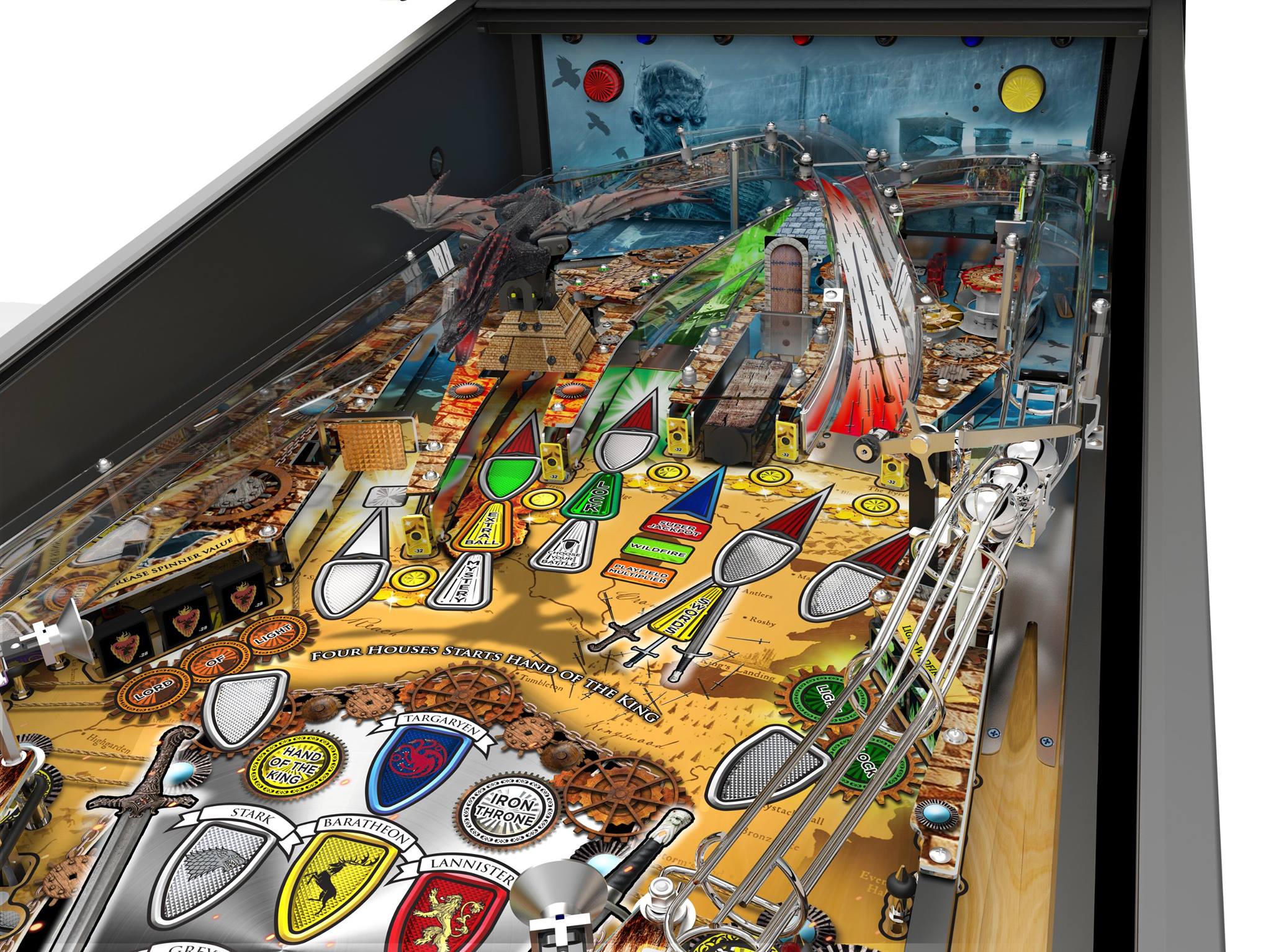 The Pro version doesn't have quite the pizazz of the Premium or LE on the main playfield as it is missing some fantastic LED lighting and has a distinct lack of figurines and show-related hardware. Although the Pro lags behind in flashing lights and moving parts, it does have a few design elements that the Premium and LE don't have, like a dragon kickback with motorized dragon, three pop bumpers, and a plastic return ramp on the right side.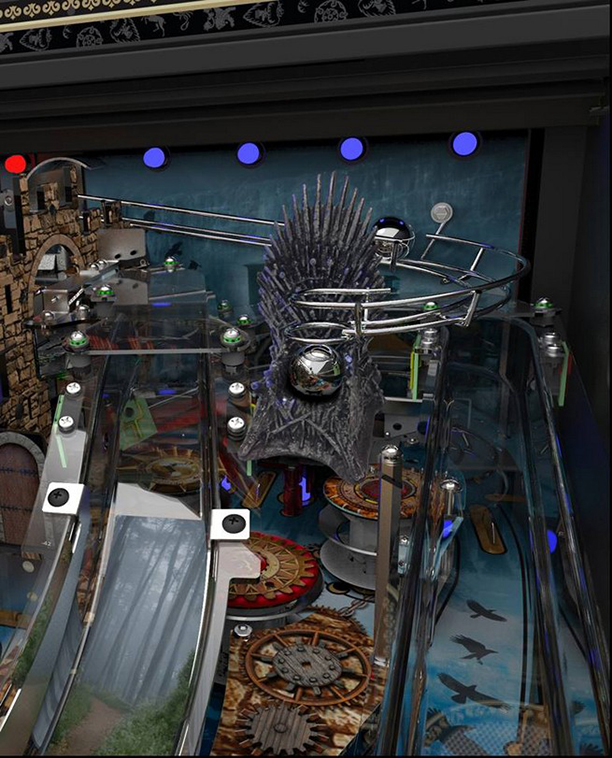 The big difference between the Pro and Premium/LE systems is the castle miniature-playfield that comeswith the pricier pinballs, equipped with two flippers, three standup targets, orbit shot, two exit lanes, "moon door", motorized dragon, and Iron Throne all of its own. These two versions also have a White Walker kickback, missing from the Pro setup, that angrily spits balls back at you.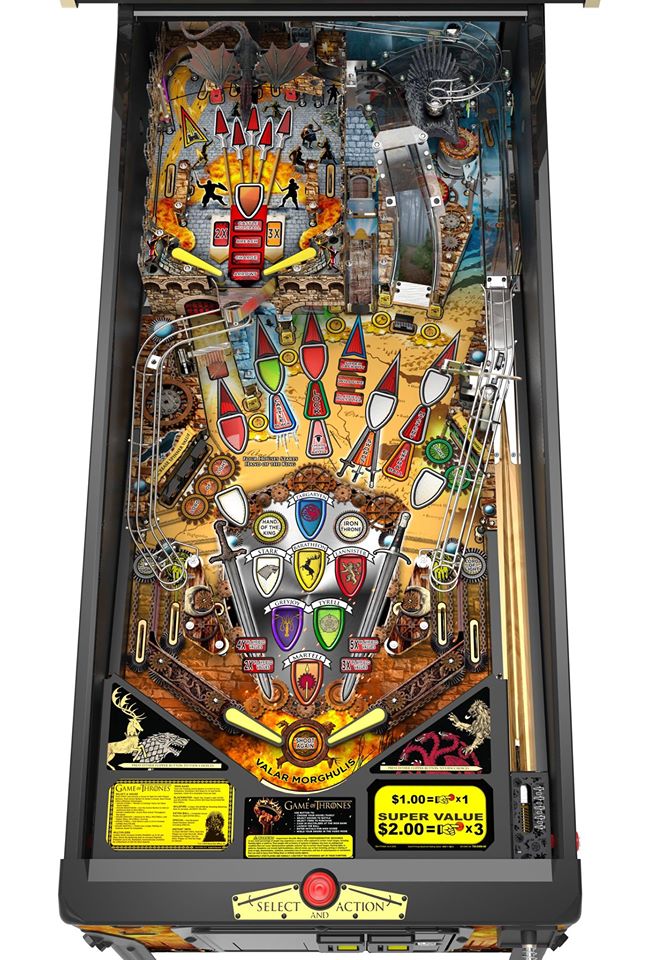 The difference between the Premium and Limited Editions really comes down to how much you want to pimp out your game. With different art, additional lighting features, and quality hardware, the Premium and Limited Edition pinballs stand head and shoulders above the Pro in appearance. The LE features laser-cut side armor in glossy black featuring the Targaryan Sigil and the house motto "FIRE & BLOOD," flipper button protection, and the coup de grace: a hand-painted backbox by Bob Stevlik featuring Daenerys Targaryen.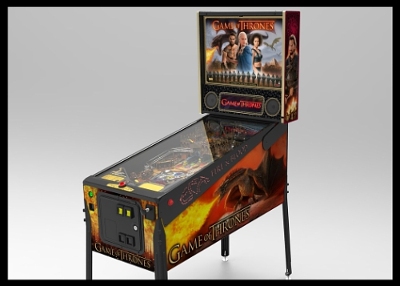 Only 700 of the Limited Edition system will be produced and all will come with a CoA and a numbered plaque. The Limited Edition comes in at a hefty $8795, the Premium at $7595, and the Pro lags way behind at $5995.Once again the world's largest and oldest pinball company, Stern Pinball, who has released amazing pinballs in recent years like The Walking Dead, WrestleMania, and Star Trek, has released another gem, and we at The Arcade Heroes have high hopes for their latest project: Game of Thrones. The system should be shipping sometime later this month and into October worldwide. Stay tuned as more info is released and start saving up those quarters!